Cayman Economic Substance Solutions for Fund Management Businesses
Managers with entities currently registered as "excluded persons" under the Securities Investment Business Law (2019 Revision) ("SIBL" and "Cayman Mancos")
Managers with entities currently registered as "excluded persons" under the Securities Investment Business Law (2019 Revision) ("SIBL" and "Cayman Mancos") are likely to be considering various options with their counsel and international tax advisers in regards to the impact of the International Tax Co-operation (Economic Substance Law) 2018 (the "ESL") and SIBL amendments on their Cayman Mancos ahead of the 15 January 2020 re-registration date.
For existing managers who are seeking to retain their Cayman Mancos or new managers who are launching with a Cayman Manco as part of their fund structure, DMS offers bespoke outsourced substance solutions which are designed as steps towards substance ("ES solution").
DMS' ES solutions are grouped into tiered service lines. They are loosely categorized into the elements of 'core income generating activity' ("CIGA") prescribed under the ESL for fund management business, including:
Taking decisions on the holding and selling of investments;
Calculating risk and reserves;
Taking decisions on the currency or interest fluctuations and hedging positions;
Preparing reports or returns, or both, to investors or to the Cayman Islands Monetary Authority ("CIMA").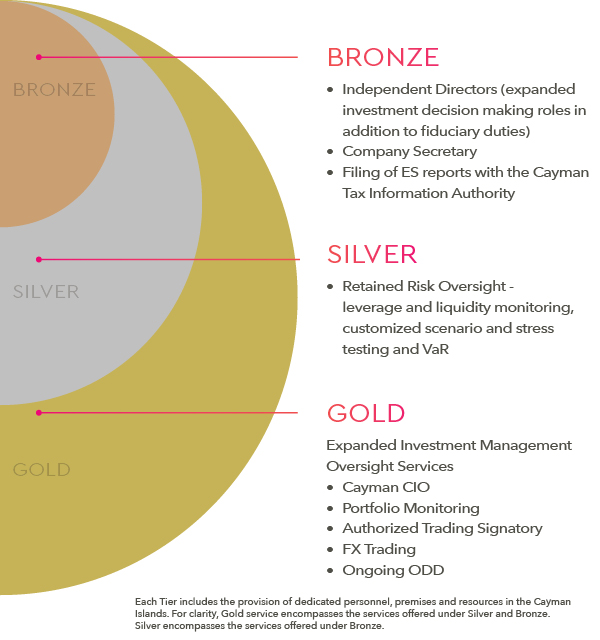 The elements of CIGA are neither exhaustive nor mandatory. The choice of appropriate ES solution will be dependent on a full analysis of the Cayman Manco's operations, revenue in Cayman, investment strategy of the underlying funds and the size, complexity and risks of its portfolio securities.
Each Tier includes the provision of Directors required to comply with the ESL and the provision of such dedicated personnel, premises and resources in Cayman designed to meet compliance with the ESL. For further information on how DMS can assist you, please reach out to your usual DMS representative or contact us below: