Bringing Certainty to the UK Fund Market
Podcast transcription: 
Good morning, and welcome to the first webinar we've run from London under the new Waystone branding. I'm Neil Coxhead, and I was one of the DMS employees with the shortest tenure, given I joined the firm in January, and then it was rebranded two months later. I joined as managing director in our UK branch with a remit to build our ACD business here in the UK.
I joined at a very interesting time with the demands of homeworking, but also with topics such as Brexit, compliance, governance, distribution, conflicts of interest, and value for money, front and center of our industry. These are themes we're living and breathing here at Waystone, which my colleagues and I will draw out over the next half an hour.
The session's been set up to provide you with just a flavor of Waystone and our UK business. Unfortunately, there won't be time for any questions on this occasion. Suffice to say that if you do have questions, we would love to hear them. So watch the space.
After the webinar, I'll always be sharing soft copies of the slides, which will include all of our contact details. Our running order will consist of a general Waystone overview for which I will share a business summary.
I'll then pass the baton to my colleagues, Kenneth Sim, and Andrew Berry, who will share details on our distribution solutions, and ACD services, our two core businesses here in the UK. Ken and Andrew will introduce themselves at the beginning of their sessions. I'll then wrap things up with a look into my crystal ball and the types of products and services we at Waystone will be engaging in over the coming months. With that, let me kick things off with a Waystone business overview.
Waystone is the leading provider of international governance, risk, and compliance services to the asset management industry.
Our business today has been established following the successful integration of the legacy DMS governance business and five recent business mergers namely:
Host Capital, the FCA-regulated independent Authorized Corporate Director business acquired here in the UK in September 2019.
MontLake, the Irish UCITS platform and distribution solutions business which was merged in June 2020.
MDO, the Luxembourg-regulated third-party AIFM and UCITS management company, which also came into the organization in June of last year.
Oligo Fund Solutions, the Swiss representative agency platform acquired in July 2020.
And then most recently, Azienda Financial Services, the Luxembourg corporate services and securitization support business, which was acquired in December 2020.
These six businesses have been successfully integrated, and following appropriate regulatory approvals, we became Waystone last month.
The Waystone business operates from nine international locations including five here in Europe.
We employ 325 staff across our locations with the 25 being here in the UK. Now, core services are listed in the middle of this slide. Now, with my summary being outside of investment management and the traditional asset servicing products, we have the solutions that support all other aspects of fund, governance, and oversight for our asset managers and their funds, both traditional UCITS but also alternative products. I won't steal Ken and Andrew's thunder as they will provide a summary on our fund distribution and ACD services shortly.
On page five, and with due deference to line of duty, we summarize the underlying products we support across the different domiciles. As an industry, as we all know, we love an acronym. So, I've put a whole host of those acronyms on this particular slide for you to walk through. But suffice to say, regardless of domicile, firm structure, method of distribution, type of investor, and the size of assets, Waystone provides the required governance, risk, and compliance services for your funds.
So with that, I'll pass the baton to Ken, who will provide an overview on our distribution solutions business, which comes from the MontLake organization and is already proving to be a topic of much discussion across our UK fund promoter base. So, Ken, over to you.
Learn More About Our European Fund Solutions
Distribution Solutions from the Waystone Group
Thanks, Neil. Really appreciate the introduction and for hosting me today on this afternoon's webinar. It's much appreciated and happy to discuss the distribution solutions business in more detail for all of you today. As Neil alluded to, I come from the MontLake business, which merged with the businesses earlier described to you by Neil in June last year, and have been running the distribution business for over 12 years now at MontLake having joined the group in 2010. MontLake has been known in the market for many years as being a distribution-led organization alongside its fund structuring and compliance and governance businesses.
We have had a successful history of distributing products on behalf of our clients globally to allocators across the globe with a focus in Europe.
And we've built a diversified offering of distribution solutions at Waystone with the idea of really guiding our fund manager clients through the ever-complicated and complex world of distribution in the regulated fund space. I think we can all agree that not just in Europe but in lands far abroad, that fund structuring, fund operations, and fund distribution continues to get more challenging with greater governance and greater regulatory requirements placed on fund managers day-to-day. To provide some sort of history to the success that the MontLake and now Waystone distribution business has had over that 12 years, I've listed out some points here that I'd like to go through with you.
We've raised over two and a half billion euros for our clients just over the last three years with assets over our 12-year history well north of that number.
We are currently present and active in 17 European countries with core allocator relationships in these countries.
We have a highly experienced sales team and investor relations team that support our distribution businesses across the full suite that I'm going to get into in a little bit more detail in some minutes ahead. And we have 11 professionals on those teams.
We have over 100 relationships with some of the largest and institutional quality allocators in Europe.
When looking at the marketplace and assessing using a source of Broadridge, we are quoted as having above market rate growth in the funds that we represent.
That's really the history of our distribution business prior to the merger, which originated from MontLake. And what we've done is we've taken this history of success and experience and broadened the suite of services that we can now provide to our clients that I'm going to go through now.
We've built a more diversified offering within distribution solutions to have a wider array of potential services that we can provide to our fund managers.
That span as being a lead partner in asset raising for those fund managers, but also to pure support services that allows us to support a fund manager reach their own distribution goals. Ultimately, we are a partner that wants to see our fund managers grow. The ethos at Waystone is to see our partners succeed. We have built an array of offerings here to ensure that this is the case.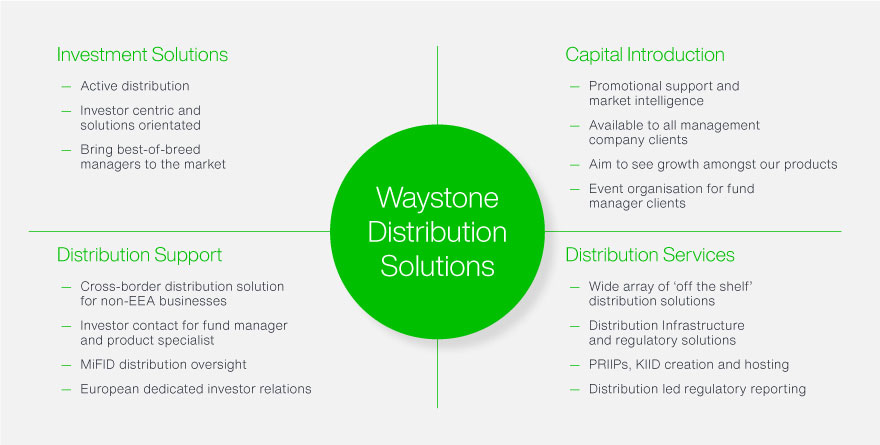 Capital Introduction Services
What I'll do is I'll start off from the top right with our capital introduction services. It's something that we've done informally for many, many, many years and have now put it under a formal banner under capital introduction. This business can be seen as a distribution advisory business, whereby what we are doing is we are offering these services out to our full suite of fund manager clients, particularly in the UK to those that form part of our ACD, which Andrew will come on to tell you more about on the call in due course. But here, what we're looking to do is utilize our knowledge and expertise in being successful in distribution.
We've got our managers on how they can be successful in their own distribution.
Understand their marketing message and help them build that marketing message if we feel it can be optimized.
Give them insights into what's going on in the marketplace both in their strategy and asset class, but also outside their strategy and asset class.
Provide guidance on who their peer groups are, how they're performing within that peer group, and potentially how they stack up from a fee perspective.
And then right down the end, we will even go as far as organizing events for our clients here, either alongside similar strategies or thematically related where our managers can participate in these conferences.
And if we see an opportunity and an investor is asking us for a particular strategy, to be able to guide that investor to the wide range of fund managers that we have as part of the broadly diversified governance structures that we have at Waystone including our UK ACD. That's our capital introductions business.
Distribution Services
Our distribution services business offers a wide array of off-the-shelf solutions that focuses in on infrastructure and regulatory solutions. We all know that it's actually often very difficult to sell a fund. It is also very challenging to ensure that your fund is appropriately structured in the regions to be bought. And this business is ensuring that you can successfully achieve the latter, which is ensuring that your fund is appropriately structured, both from a fund structuring standpoint, but also from a local market standpoint that allocators in these regions can value quickly, easily, and seamlessly.
We offer solutions such as:
Platform
European platform access,

such as distribution agreement management
such as rebate management

KID production
Global registration services
Regulatory and/or database reporting services
PREPS [SP].
It's a wide array of services as you can probably tell from just the many that are listed off there, and the list does go on, that our fund managers can choose from to ensure that they can optimize their structuring and that their own sales team can be more successful in accessing the investors in these regions when deploying their sales teams into these regions.
Distribution Support
The second last category is distribution support. Whilst it's a newer solution that we've developed or product that we've developed, it has been one of much and many discussion. It is a distribution offering whereby we are allowing and facilitating access for managers who are not in the EEA to continue to access capital in the EEA. And equally, where managers are not based in the UK, to continue to be able to access clients and capital in the UK marketplace. As we know, there's been a lot discussed in relation to regulations around distribution in these core jurisdictions. We've built a service here that can support our fund manager clients continue to access these pools of capitals, and do so in an efficient and also compliant manner.
Investment Solutions
The last solution is the one that I spend most of my time discussing on the slide prior, which is our active distribution business and is what has really allowed us to develop this broadly diversified offering to our clients is our full active distribution offering called investment solutions. Here we take the lead on distribution, and have been successful in doing so. We curate a small, focused list of funds that we intend to take to our client relationships and drive assets to those products. We've proven successful in this business and are always on the hunt for high-quality managers that can be accretive to our offering such that we can introduce assets to them in the future. I hope that's useful as an overview to our distribution business. I'm happy, of course, in due course to take questions from any of you that's joined today's webinar.
Learn More About Our Distribution Solutions
A fascinating topic and one which we will be delighted to engage with you further, both with you and your clients. Now, our second topic is equally fascinating given the evolving regulatory agenda here in the UK. Welcome to Andrew, who I invite to share his insights on our UK business and its role within the UK fund market. Andrew.
UK Authorised Corporate Director (ACD) for the Waystone Group
Thanks, Neil, and thanks Kenneth for sharing that interesting insight into the distribution solutions. I'd like to personally welcome everyone who's joined the webinar this morning, evening, or afternoon depending wherever you may be located in this virtual world that we still find ourselves within.
I am Andrew Berry and head of our UK ACD for the Waystone group. I've been with the ACD company for almost three and a half years. The UK ACD is Waystone management UK limited, and firstly, I'd like to give a little more information on the company's history. It was formed in January 1999 and has been directly authorized with the FCA for over 16 years. It has been previously known as TRIA Investments here at Capital and more recently Host Capital. It was privately owned until 2019, until which it was acquired by the Waystone group. It was permissioned with the FCA to operate UK UCITS and AIFs or alternative investment funds as people more commonly know it. Over the 16 years, it has operated UK UCITS, UK NAIFs, AIFs as discussed, and also qualified investor schemes, so QISes as they're more commonly known. Currently, we act as independent ACD for 27 UK funds, equating to 1.3 billion assets under management.
Some key activities that have been taking place within the ACD business since acquisition in 2019.
We've transitioned to UK Board of Directors and implemented two independent non-executive directors. One of those has acted as the chairman to the business.
We've increased the team in the UK to 11 full-time dedicated people who have extensive UK funds experience.
All stock were relocated within the new office in Holborn in London.
We've completed the addition of new hires into the risk and compliance areas to enhance the day-to-day governance, and as part of our transition to the SM&CR regime.
We've also centralized some activities across the group like human resources, technology, and specifically systems.
We've been able to create some economies of scale in that area.
And, we have actually seen some savings to our funds, and ultimately the investments.
Independent ACD Model
Next, I'd like to look at the independent ACD model, and how we operate that within Waystone. We see ourselves as a truly independent ACD. Why do we take this view?
We delegate all investment management.
We do not retain in-house any investment management, and equally, we do not have an investment management team that's competing with any of our funds or with any of our clients.
We delegate administration and operate an open architecture model for this.
So, what does that mean? Well, it means we can appoint any provider that a client or investment manager may wish us to work with. We also operate robust daily, monthly, quarterly, and annual delegate oversight programs, which monitors all of these delegates very closely to ensure appropriate outcomes to the fund investors. We view this full delegation model as allowing us to operate in a non-conflicted way to ensure appropriate investors outcomes.
Learn More About Our ACD Services
Next, I'd like to touch on a couple of areas and market initiatives that we have seen over the recent years.
The introduction of independent directors to the ACD board
Through 2015 and into mid to late 2017, the FCA undertook a review called its Asset Management Market Study, the objective of which was to understand how asset managers compete to deliver value to both the retail and institutional investor. The findings were that price competitiveness and unclear objectives for investors who were losing the funds were areas that could be improved. So, what did that mean to us or the market in terms of actions? Well, what was introduced was assessment of value as one of the areas, the introduction of independent directors to the ACD board. And as highlighted earlier, we have integrated that and appointed two previously.
The senior manager and certification regime
We also saw the senior manager and certification regime, so, SM&CR in short. And we've also had a process of having to review and change our fund objectives and benchmarks to ensure they're appropriately described and appropriately reflecting the outcomes that the fund is looking to achieve. Then in more recently, we've seen the FCA perform a multi-firm review, and that's been on the independent ACD market that we operate in. This was commenced by the FCA in late 2019 into early 2020. The aim of reviewing the governance, controls, and the credential regimes in capital within the independent ACD market on operators. We see that this was a positive step to allow the regulator to understand the independent ACDs in more detail and a good opportunity for ourselves, and likewise, our competing ACDs to work together and understand good and bad practices.
Reviews have been held in person pre-COVID and more laterally took the form of virtual meetings. Our review was held virtually and towards the end of 2020. We found the review was engaging and took a consistent approach across the ACDs and was in line with the objectives of the FCA set out at the start. But we still await the final reports, but we anticipate that those reports will be available, and the findings or recommendations are expected to be issued over the coming weeks.
It's been great to have the opportunity to give you some information about the UK ACD company. And I will therefore hand it back to Neil who has his crystal ball ready with what the future may hold. Thank you.
Thanks, Andrew. It feels like we're facing different ACD challenges almost on a daily basis. So, if any of Andrew's insights hit a chord, please let us know, we'd be delighted to continue the dialogue on any of those topics. With an eye on the clock, I'd like to wrap things up with a brief look into the Waystone UK crystal ball.
Supporting the Growth of UK Funds, Including the New LTAF
Whilst it's no means a torrent, we are starting to see more international managers interested in launching UK domiciled funds. Perhaps not surprising given the size of the distribution market here in the UK, and the continued levels of uncertainty over Brexit. So, something to keep an eye on. We're certainly very interested in supporting any of those international managers looking to get into the UK. We're also from an internal perspective looking to take some research into investment trusts and authorize contractual schemes, as our regulatory permissions allow us to support both types of structures. More to come on this over the coming months.
Launching a UK Long-Term Asset Fund
Finally, and perhaps most excitingly is the work we've kicked off in preparation for the launch of the proposed UK Long-Term Asset Fund or LTAF. A UK government-sponsored initiative which intends to provide non-institutional investors with access to private market investment strategies. It's early days and I'm very conscious that there are still consultation periods, policy setting, and ultimately regulatory approvals to be gone through. But time waits for no man, and as such, we've started work on our own UK LTAF service proposition. We would certainly like to hear from you if you have your own plans of engagement on the LTAF. We're very keen to be an early mover with this particular product structure and our offering for it.
Conclusion
With that, and thanks to Ken and Andrew for their insights, I'd like to thank you all for your attendance. I look forward to continuing the dialogue on these and other topics potentially even in person once such things are permissible again. Thank you.