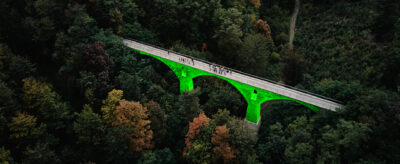 Distribution Solutions
The European asset-raising environment is becoming increasingly challenging.
Waystone* Distribution Solutions has extensive expertise in guiding you through the complex challenges you may face. As a distribution-led business, we provide you with market intelligence to help you achieve your asset-raising objectives.
Why Choose Waystone for Your Fund Distribution Needs?
With a track record in supporting fund managers' internal sales teams and local distribution partners globally, we understand what is needed to raise money from European allocators.
Our team of dedicated distribution and investor relations professionals have led and supported asset-raising campaigns for some of the leading hedge fund and asset management firms in the world. The key benefits of our Fund Distribution Solutions include:
access to the leading European fund distribution platforms
guidance on RFP management
expert assistance on the creation of a suite of marketing literature
assistance with third-party country registrations and the co-ordination of tax reporting.
International Fund Distribution Solutions to Reach Your Asset-Raising Goals
As a leading third-party fund management company, we have a total focus on ensuring our fund manager partners reach their asset-raising goals.
Our Distribution Solutions include access to the leading European fund distribution platforms. We can provide guidance on RFP management as well as expert assistance on the creation of a suite of marketing literature. We can assist with third-party country registrations and the co-ordination of tax reporting.
Our Fund Distribution Solutions can be broken into four categories: Investment Solutions, Distribution Advisory, Distribution Support and Market Access.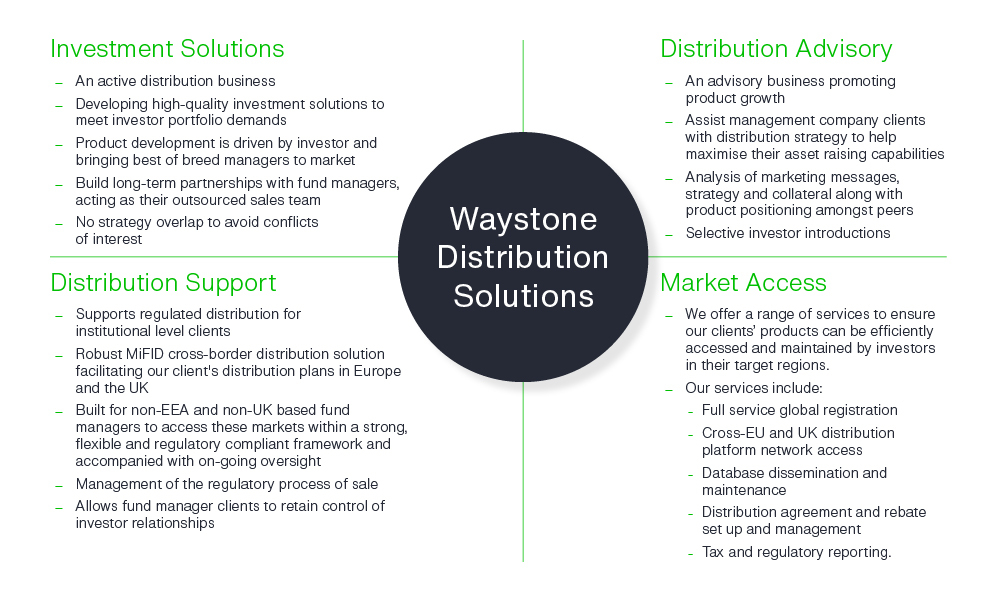 *Distribution solutions are provided by Waystone Investment Management (IE) Limited, who have been authorised and regulated by Central Bank of Ireland and Waystone Capital Solutions (UK) Limited who have been authorised and regulated by the FCA in the UK.
Investment Solutions
Waystone aims to develop the highest quality investment distribution products in order to deliver value to investors. Our investment solutions provide active distribution, are investor-centric and solutions-oriented, and bring best-in-class managers to the market.
Distribution Advisory
Our distribution advisory aims to promote clients' product growth by:
Assisting management company clients with their distribution strategy in Europe to help maximise their asset-raising capabilities
Analyzing marketing messages, strategies, and collateral along with product positioning among peers
Providing selective investor introductions
Distribution Support
A robust MiFID cross-border fund distribution solution to facilitate our client's distribution plans in Europe and the UK in response to growing regulation
Built for non-EEA and non-UK based fund managers to access these markets within a strong, flexible and regulatory-compliant framework and accompanied with on-going oversight
Management of regulatory process of sale
Allows fund manager clients to maintain control of investor relationships
Designed for large institutional managers that: 
Have appointed a Waystone Management Company
Wish to distribute in the EU or UK
Deal with professional investors / professional intermediaries only
Fully covers all regulated activity required to distribute products: 
Initial investor out-reach​
Investor follow-up​
Provision of offering and subscription documentation​
Receipt and transmission of orders​
Maintenance & servicing of investors
Market Access
We offer a range of services to ensure our clients' products can be efficiently accessed and maintained by investors in their target regions. Our market access services include:
Full-service global registration
Cross-EU and UK distribution platform network access
Database dissemination and maintenance
Distribution agreement and rebate set up and management
Tax and regulatory reporting
Swiss Distribution Solutions
Waystone is authorised and regulated to represent foreign funds distributed in Switzerland with a comprehensive service that includes fund representation, fund distribution services and arrangements with the paying agent bank.
To learn more about our Fund Distribution Solutions, please reach out to our European Solutions team today.